About Us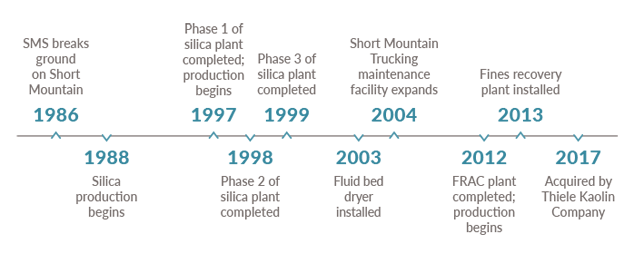 At Short Mountain Silica, we understand that the 'little things' make a big difference. Our constant focus on the 'little things' sets us apart in the industry.


A subsidiary of Thiele Kaolin Company since 2017, Short Mountain Silica is a producer of high purity silica for both the consumer and industrial markets. Our reputation for consistently producing high quality silica products and focusing on the customer has been true since our founding in 1987. Located in Mooresburg, TN, we maintain one of the largest and purest deposits of silica sandstone in the United States. We pride ourselves on our people, their relationships, and taking care of the 'little things' for you.

Utilizing the most advanced technology and equipment available, our rigid quality control program guarantees consistency in iron oxide content, particle size distribution, and various other specifics upon which our customers depend. Because of our commitment to quality and customer service, we consistently meet the needs of our customers.

Short Mountain Silica offers a wide variety of products serving various industries. We offer silica for glass and glazing, traction sand with dust suppressant, filter sand for municipalities, a bright white sand for golf courses, lawn, landscape, and recreation needs, as well as FRAC sand for the oil and gas industry. In fact, from the light you turned on this morning and the window you look through at work, to the toothpaste you used before bed, chances are our products are already part of your daily life.